There is incredible and deeply historic architecture to be found all over the city of Binghamton. And a lot of these places are what students and residents are now calling home. Binghamton's got hundreds of designated local landmark properties, many of them located on Riverside and the Tree Streets, a popular neighborhood for student living. You can access the full list here to see if your house could've belonged to a famous merchant from the Parlor City days.
Here are some Parlor city mansions that  now house social fraternities and some wild revelers:
63 Front Street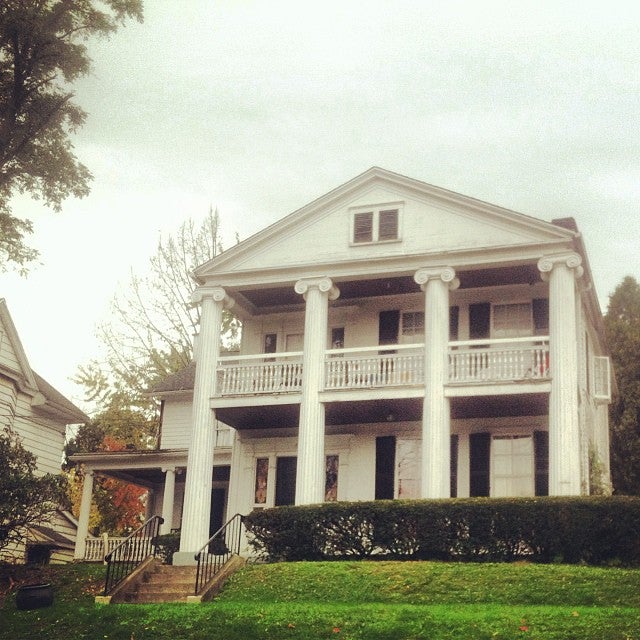 This lovely house on Front Street was built in 1828 by Franklin Whitney, son of Binghamton's founder Joshua Whitney II. In 1840 the columns were added to mimic Greek Revival style architecture.  Today it houses the social fraternity TDX, and college partiers report that the balcony is "The perfect place to throw up off of when the bathroom's full."
6 Riverside Drive
This Georgian-Revival style home was once the mansion of Charles McKinney, a famous coal merchant in New York state. Like 63 Front, it now houses a social fraternity.
84 Riverside
This Queen Anne style mansion designed by Architect Edward Vosbury and built in 1902 features beautiful crown moulding along its castle-esque corner tower. It had its own carriage house, which can be found today on 11 Johnson Drive. The house belonged to the Delta Sigma Phi fraternity in 2013, whose brothers reported that the basement was filled with black mold from past flooding but was otherwise a good place to play beer pong. A few punched holes in the walls and an entire security deposit later the house has been rented to a new fraternity for the next year.